All time high: a guide to Morocco
If you're looking for epic landscapes, fast-paced adventures, history-packed cities and delicious food, Morocco is a destination that will tick all your boxes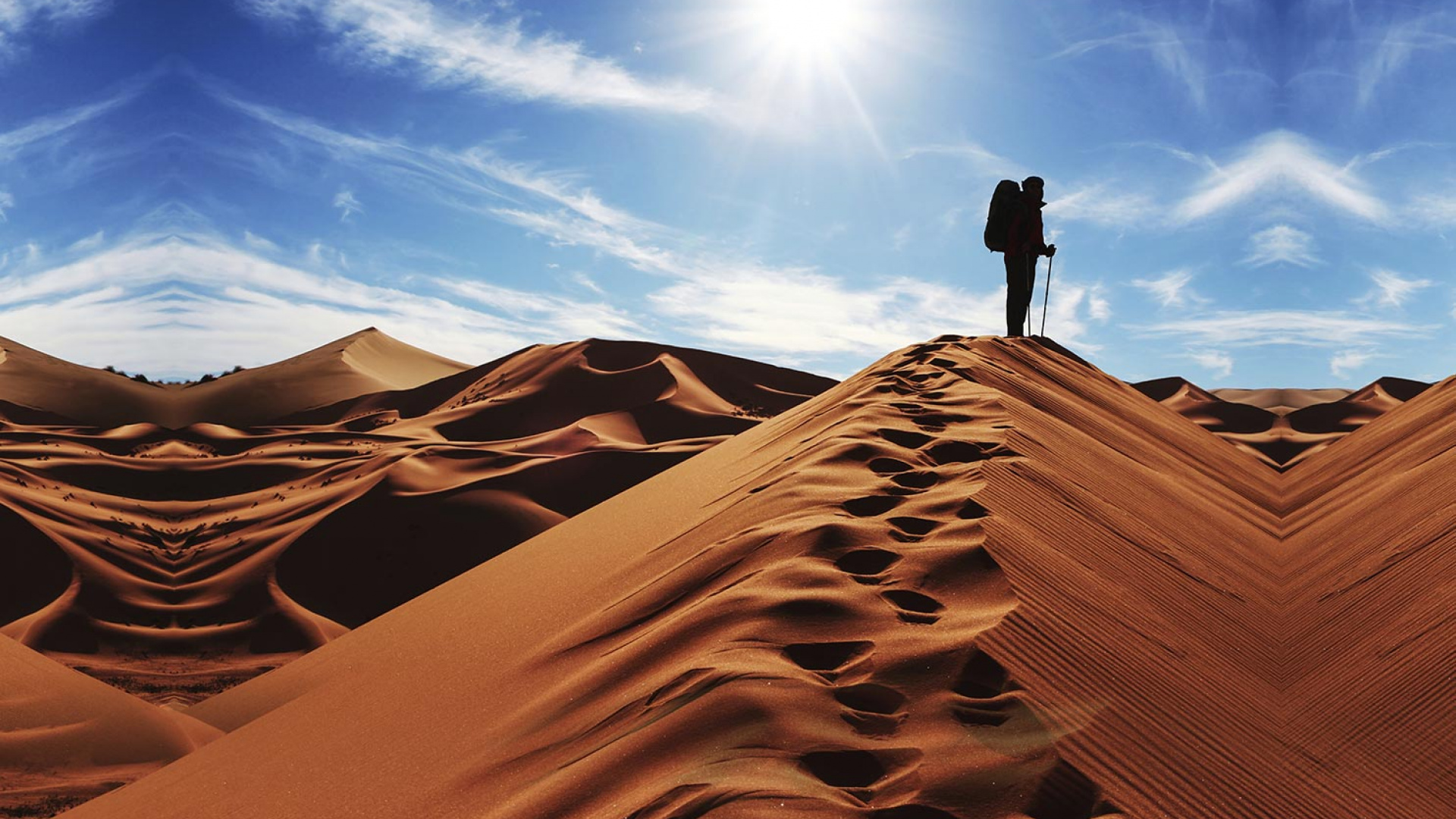 In association with Much Morocco
Whatever your holiday style, Morocco has got it covered. From heart-racing adventures in the desert or mountains, to days of shopping, eating and strolling through cities rich in history, or just lazing on golden sand under the warm sunshine, this is a country that is sure to exceed all of your holiday expectations.
The adventurer
If action's at the forefront of your holiday wishlist, in Morocco you'll be spoilt for choice. The Atlas Mountain region not only offers jaw-dropping scenery but top-notch hiking, too – whether it's conquering Toubkal mountain, the second-highest in Africa, or taking a more leisurely trek through the lush flora and fauna of the tranquil Ifrane National Park.
In the middle of the Atlas Mountains you'll find the river Ahansal, a white-water rafting and kayaking hotspot, ideal for thrill-seekers but also those looking for a slower pace. Southern Morocco makes a great winter cycling destination – with hairpin bends for road cycling and exhilarating off-road biking that will see you tearing down mountain slopes.
No trip to Morocco would be complete without experiencing the incredible Sahara desert – which plays host to dune boarding and fast-paced buggying, camel trekking and even music festivals.
If you're really looking to escape the city, consider a week-long camel trekking and camping trip. You'll be sleeping in cosy Berber-style tents and eating delicious home-cooked cuisine around a campfire, before spending an evening gazing at a sky lit up by millions of stars. By day you'll be travelling on a camel, traversing towering dunes and seeing the undiscovered parts of the Sahara desert.
The city lover
Fez is a warren of tiny alleys and bazaars, and a city that will reward you the more you explore. Founded in the ninth century, it's home to the oldest university in the country and the opulent 17th-century Royal Palace. Here you'll discover outstanding architecture, ranging from quaint riads decorated with tiny colourful tiles, to mesmerising structures such as the Kairaouine mosque, the second-largest in Morocco.
After a day experiencing the clamour of the medina, stroll through the peaceful Jnan Sbil Gardens – 18.5 acres of flowerbeds, palms and citrus trees.
Wandering the streets of Fez you'll soon realise why the city is considered the spiritual heart of Morocco, a place where history, delicious cuisine, architecture and culture collide.
The historian
Planning your trip
Planning your Moroccan adventure has never been more simple. British nationals do not need a visa to enter the country, and can travel as tourists for up to three months, meaning you can spend a weekend or weeks discovering the country.
Not only can you fly to Morocco in just three hours, it's hugely accessible, too. Numerous airlines fly into several city airports – Marrakech is a great launch-pad for discovering the rest of the country, but new flights have also been launched to laid-back Essaouira and the cultural city of Rabat. Flights range in price – if you're travelling on a budget, why not opt for Ryanair, which flies to Marrakech from London for as little as £20 one-way.
The national airline, Royal Air Maroc, has extended its network to offer more services to the city of Rabat, while British Airways also flies to Marrakech and Tangier, a cosmopolitan port city. EasyJet has also increased its routes to include Essaouira, Agadir and Marrakech. Morocco is just eight miles off the coast of Spain, so it's easy to make the journey by ferry if you prefer.
Budding historians will revel in the ancient history of Meknes, a quieter and smaller town than its grand neighbour, Fez. The city is packed with ancient sights, including the Bab el-Mansour – a lavish, well-preserved structure that's the grandest of all imperial Moroccan gateways. Elsewhere you'll find the Dar Jamaï Museum, one of the country's most celebrated museums, thanks to its exhibits ranging from jewellery to antique carpets – the extensive collection represents the various beautiful styles from different regions of this diverse country.
For something entirely different, you could stroll 2km from Meknes to Heri es-Souani – acres and acres of granaries and stables that boast UNESCO World Heritage status. It's regarded as one of the finest architectural projects of Moulay Ismail, a former Moroccan ruler who designed the stables and underground water channels for 12,000 royal horses. Plan ahead and you may have the chance to enjoy some spectacular on-site live music.
The beach bum
New hotels and tours in Morocco
For a luxurious long weekend, the newly opened Mandarin Oriental Marrakech is a peaceful hotel set in 20 hectares of tranquil gardens. The hotel's restaurant offers a fine-dining twist on Moroccan cuisine, while the spa is a calm retreat. Elsewhere in the city you'll find the arty and cool Riad Farnatchi, where a new restaurant is set to open this month, if you can tear yourself from the sumptuous suites and rooftop-with-a-view that is.
If beaches are on your Moroccan holiday wishlist, treat yourself to the Banyan Tree Tamouda Bay, a luxurious new hotel opening on the Mediterranean this spring, making the most of the country's warm-year-round climate.
For a dramatic high-altitude setting, Kasbah du Toubkal is a secluded mountain hotel surrounded by hiking trails – new routes are always being discovered. For those keen to sample the thrills of the Sahara desert, consider Fixers Travel, a new tour company offering desert-based breaks including music festivals and off-road driving adventures.
If you're just keen to chill out and eat well, try a newly launched food-infused yoga break from Tonic Retreats. The company offers four-day yoga holidays that combine rooftop yoga and meditation, healthy, delicious Mediterranean cuisine and accommodation in one of Marrakech's beautiful riads.


With a warm climate all year round, Morocco's beaches are one of its biggest draws. In the Al Hoceima National Park you can snorkel with 86 varieties of fish – many of which you won't find anywhere else in the Med – while remote and scenic stretches of sand are offered in abundance, too. Elsewhere on the Mediterranean coast, Tangier offers city-style beaches, and Saidia is renowned as the 'blue pearl' of the region thanks to the turquoise sea.
In Essaouira, a laid-back town complete with fortified city walls and quaint fishing harbour, you'll also find a long stretch of sand, and its location on the Atlantic coast makes it prime kite-surfing and surfing territory, while the hippy fishing village of Taghazout in the south-west of the country boasts an equally epic surf scene. For lazing in the sunshine, try stretching out on the calm beach of Agadir, where the town's kasbah also offers incredible sea views.
The culture vulture
Rabat, Morocco's capital, is now more accessible than ever thanks to increased direct flights with Royal Air Maroc from London Gatwick. Here you'll discover a cosmopolitan city that will charm visitors at every turn – whether it's the stunning colonial architecture, palm-lined boulevards or peaceful, authentic medina, which is less busy than its city counterparts – perfect for discovering hidden corners at your own pace. 
Be sure to take a stroll around Chellah, a medieval fortified necropolis that's now overgrown with fruit trees and flowers, perfect for a peaceful stroll. The city prides itself on its tranquility and relaxed pace – nightlife seekers should head to the streetside cafes of Casablanca, the economic and cultural capital.
Towards the north of the country, close to the cosmopolitan port city of Tangier, you'll find one of Morocco's prettiest towns, Chefchaouen. Perched within the Rif mountains, this icompact village that achieves the perfect balance of authenticity and ease. The medina here is also one of the most picture-worthy in Morocco, where narrow lanes combine with blue-washed buildings and terracotta red roof tiles – soak up the atmosphere in one of the many quaint outdoor cafes lining the streets.
The foodie
Marrakech is a pulsing city in Morocco's west, and the perfect short-break destination for those seeking culture, shopping and local cuisine. The famous Djemaa el-Fna is a huge square in the city's medina quarter, where food stalls line the perimeter (grab a seat and tuck into pastries before heading over to the stalls stacked with fresh oranges).
What's on
Marrakech Biennale: From February to May you'll have the chance to experience the Marrakech Biennale, a platform for contemporary arts from across the globe. Rallye Aicha des Gazelles From 18 March - 2 April you could take part in the world's only desert-based women-only 4x4 rally event.
Marathon des Sables: The arduous Sand Marathon sees runners cover 150 miles of the scorching Saharan desert of Ouarzazate over 11 days in April.
Marrakech Grand Prix WTCC: Travel in April and you could experience the world-famous FIA World Touring Car Championships.
Oasis music festival: Taking place this September in Marrakech, this music festival encourages travellers to 'dance somewhere different'.
Casablanca International Art Fair: Every December local and international artists gather to exhibit their artwork – including photography, sculptures and paintings.
Marrakech Film Festival: For an international film festival that attracts the crowds as well as the stars, film buffs should head to Morocco in December for the world-famous event that rivals Cannes.
For information about these events and more visit muchmorocco.com/events
Alternatively, the medina's narrow cobbled alleyways are lined with quaint restaurants serving traditional dishes and drinks, from flavour-packed tagines to fresh mint tea).
If you love shopping, this is where to get your fix – the medina is crammed with stalls selling everything from leather bags to jewellery. Take a walk before relaxing in one of the city's hammams – beautiful, tile-lined spas where you'll be soaped and scrubbed into a state of zen. For those looking to travel on, why not sample the sights and sounds of Fez, where beautiful architecture is complimented by equally astounding food? The choices are endless but one thing's for certain: a trip to Morocco will always be an incredible adventure.
Travel advice
It's never been easier to visit Morocco – the country's incredible culture, chilled-out beaches and buzzing, history-rich cities can be reached in just three hours from London airports, while travel within the country is very easy, too. For inspiration, suggested itineraries and logistical transport advice, head to muchmorocco.com or simply visit the Facebook page at facebook.com/MuchMorocco
Produced in association with Much Morocco