Win a trip to the 2018 Macao Light Festival
With its fascinating fusion of Portuguese and Chinese culture, vibrant nightlife and events like Macao Light Festival, Macao is a must-visit, and you could be about to discover it all for yourself
The British capital is gearing up for the second Lumiere London festival, which will see more than 40 UK and international artists reimagine the city's iconic architecture and streets from 18-21 January. On the other side of the globe, the Macao Light Festival – which takes place each December – similarly transforms Macao's best-known streets and buildings into dazzling works of art through the magic of illuminations and 3D projections.
That's not to say that Macao isn't magical enough without the extra dazzle. It's a place that wows at the same time as providing a unique cultural experience that's different from anywhere else in the Far East. Even though it is just 40 miles from Hong Kong, Macao is incredibly different from its neighbour. This is because of its fascinating Chinese-Portuguese history, which has influenced the destination's varied architecture and flavourful fusion cuisine.
This unique blend of classic cultures is something that exists in almost every part of the destination, but you'll see it most distinctively throughout the Unesco-listed Historic Centre of Macao, which is full of beautiful streetscapes and buildings of both Chinese and Portuguese origin, from the iconic Ruins of St Paul's to the ancient A-Ma Temple and elegant Senado Square.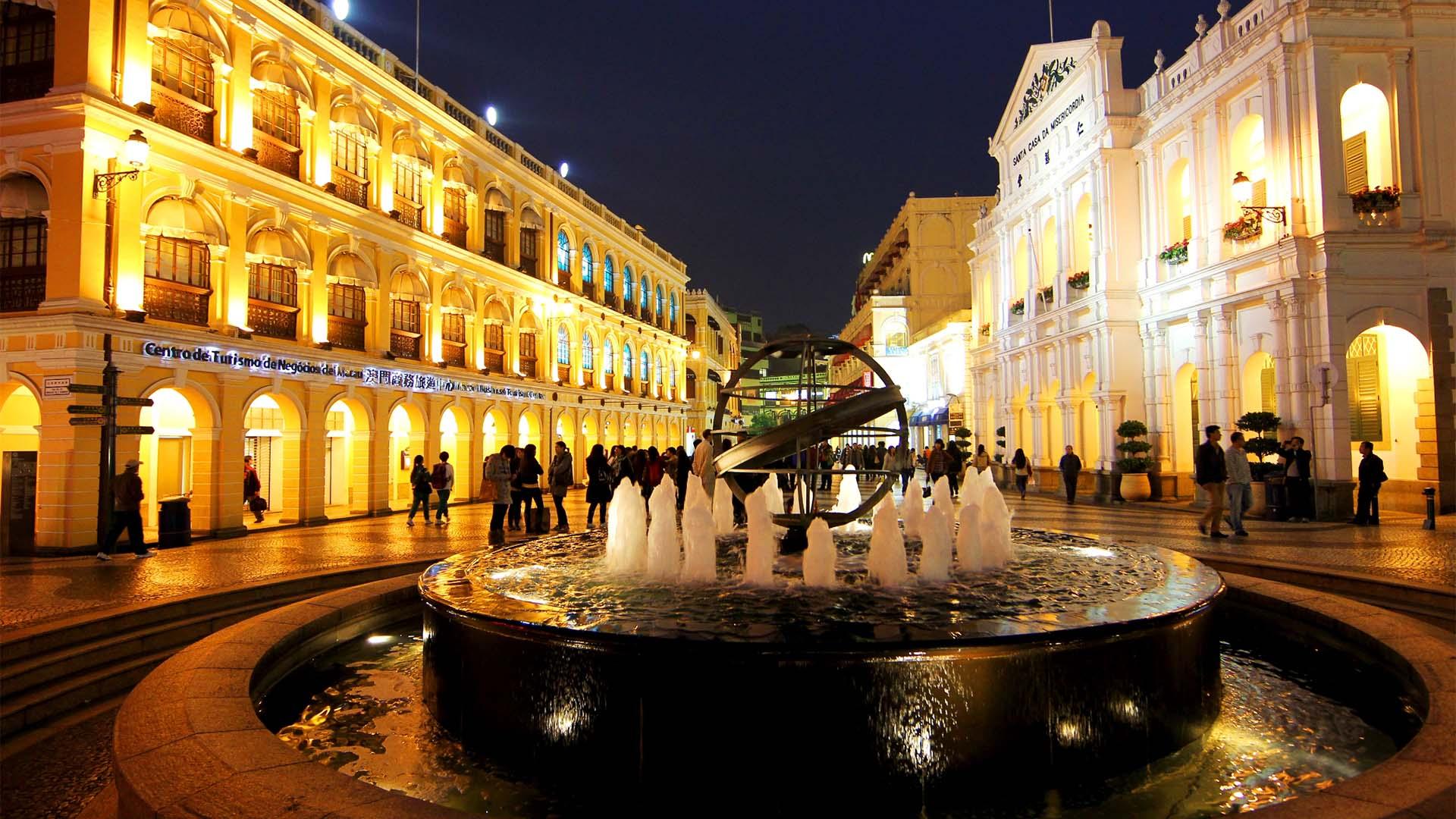 Then there's the legendary local Macanese cuisine, a fusion of flavours not just from Portugal and China, but from Africa, India, South America, and other places visited by the Portuguese on their trading routes to Macao. You'll also be able to enjoy everything from classic Portuguese cuisine to the delicious dim sum of southern China, and super-fresh street food to unique and glamourous fine dining, because foodie culture in Macao owes as much to its history as it does to the Michelin-starred pedigree it has attained and cultivated in recent years.
But it's not only the amazing food scene that makes Macao a perfect two- or three-night addition to a Far East holiday. From the bustling alleyways of traditional shops in Taipa Village to the soaring 338m-high Macau Tower, and from the relaxed pace of the rolling hills, beaches and coastline of Coloane, to sipping a cocktail in a glitzy rooftop bar or taking in a show like the breathtaking House of Dancing Water with its high dive stunts and acrobatics, this is a place that pulsates with energy and excitement with every corner you turn.
How to win
Win a trip to the 2018 Macao Light Festival
Fancy heading across to Macao for the festival yourself? Great news, because you could be about to win a four-night trip for two to the 2018 Macao Light Festival with Travelbag. The prize includes return flights from London to Hong Kong, transfers to Macao by fast ferry and four nights at the five-star Sofitel Macau at Ponte 16. For your chance to win, and for full terms and conditions, go to visitlondon.com/macao. Prize draw is open to UK residents aged 18 years and over. The four-night trip must be taken between 3 and 10 December 2018. Prize draw closes 9 February 2018.
And as if that wasn't already enough, there's a year round calendar of colourful events to enjoy. Whether you prefer a traditional celebration such as Chinese New Year, the adrenaline rush of the Macau Grand Prix or the sparkling Macao Light Festival, Macao has something for everyone.
Like the sound of a trip to Macao? Well you could be in luck, because the Macao Government Tourism Office has teamed up with Lumiere London and the holiday specialists at Travelbag to offer one lucky winner and a friend the chance to explore the destination for themselves this December, taking in the 2018 Macao Light Festival while they're there. So what are you waiting for? Enter now.
Travelbag's experienced Travel Experts sell worldwide holiday experiences at amazing prices. For great holiday offers to Macao visit travelbag.co.uk/macao or speak to an Asia Travel Expert on 0207 001 5875 or at the Travelbag London shop, 205 Kensington High Street, W8 6BA
For more information about holidays to Macao call the Macao Government Tourism Office UK & Ireland representative on 0203 375 4058 or go to visitmacao.co.uk